Mitas highlights top agricultural tires at Farm Progress Show 2023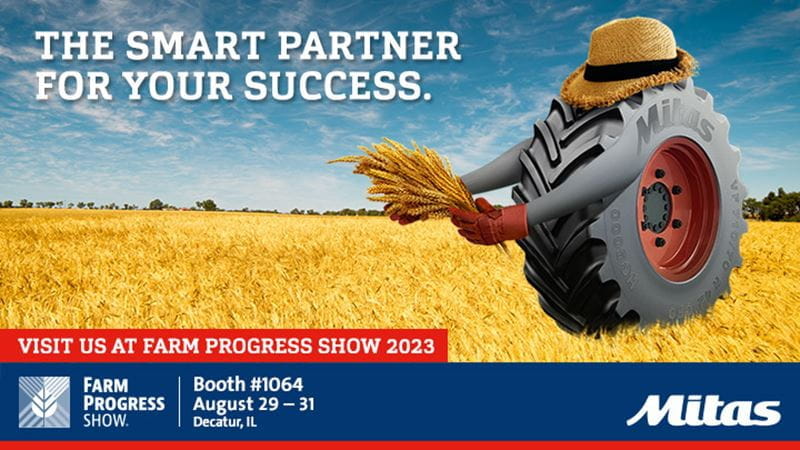 Mitas is excited to announce its presence at the 70th edition of Farm Progress Show 2023, the nation's largest outdoor farm show, in Decatur, Illinois, US from August 29 to 31. At booth #1064, Mitas will feature its popular agricultural products, including the HC 1000 NRO high capacity, narrow rim tire for the latest generations of self-propelled sprayers, HCM, AC 85, and AGRITERRA 02 tires.
David Barraco, Marketing Director North & Central America at Yokohama TWS, says "For 70 years, the Farm Progress Show has connected farmers from across the globe with agriculture's leading companies. With hundreds of exhibitors, there's no better place to engage with the latest farm products. It's an important platform for us to showcase our wide range of agricultural tires that are well-suited for the diverse needs of US farming. The tires showcased this year cover multiple agricultural applications and seasonal use, offering versatility for various farming conditions. We are proud to join this fabled farm show and present our reliable products that help farmers increase yields and enhance their daily operations".

Mitas team will be on hand at booth #1064 to demonstrate and discuss the displayed products, offering attendees a closer look at some of the most sought-after tires in the industry. Whether it's the durable AC 85 providing added traction with its large contact patch, the versatile HCM tire, the high-performance AGRITERRA 02, or the robust HC 1000 NRO. "Similar to how our tires bring additional value to their owners, our booth will provide an experience beyond a product exhibition. Attendees will have the opportunity to enjoy a live radio broadcast of Agriculture of America, hosted by Mike Person. In addition, every booth visitor has a chance to win a $500 gift card" adds Barraco.

Mitas HC 1000, high-capacity tire for the latest in agricultural sprayers
Made to match the newest self-propelled agricultural sprayer's design, HC 1000 Narrow Rim Option (NRO) is a radial flotation tire providing farmers with up to 40% higher load capacity, better traction, increased ground protection and higher crop yields. This is due to both the NRO's special construction and advanced VF (Very High Flexion) construction. The optimized tread pattern and increased number of lugs ensure reduced soil compaction, lower fuel consumption, better durability, and longer service life.

To find out more about Mitas agricultural tires go to: www.mitas-tires.com/en-us/products/agricultural-and-forestry-tires

For more information about Farm Progress Show 2023 visit: www.farmprogressshow.com