Mitas tires are the winning choice for ploughmen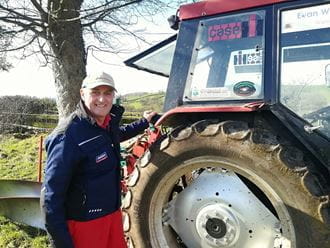 Mr Watkin stands in front of his Case 885L tractor, shod with Mitas AC85 tires.
Mitas is the winning choice for one of the most successful match ploughmen in Wales, Evan Watkin. Anyone who witnessed the torrential downpours that affected the 2019 and 2018 British Ploughing Championships will know the impact that the correct set of tires can have.
For Evan Watkin, who has had consistent success on a national and world level, the rubber is as important as the tractor and the plough. "Whether I'm competing in a local match, at the Welsh or British nationals, or at the World Championships, I need to know that my tires can handle all sorts of conditions and soil types. I don't want anything to impact the quality of my plot," he says.
Mr Watkin has been ploughing competitively since 1985. In that time, he has won the Welsh Championships thirteen times, made it onto the podium at the World Championships seven times (three gold medals, three silver and one bronze) and last year added Supreme Champion of the British Championships to his trophy cabinet. This year he will represent Wales at the World Championships in Russia, hoping to add to his trophy cabinet.
Mitas AC85 tractor radial tires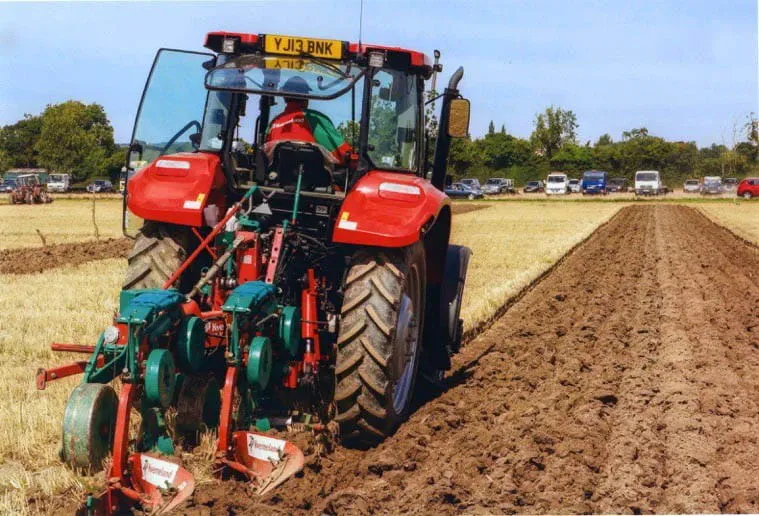 "Small adjustments make all the difference in match ploughing, so I need tires that will be consistent and reliable," explains Mr Watkin.
He uses Mitas AC85 340/85 R38 (320/85 R24s at the front) on his Case 885L, which is equipped with a Kverneland AB85 auto-reset match plough. The Mitas AC85 has a less aggressive tread so it's gentler on the land. It retains that grip, so even when it's pouring with rain and the ground is slick, I know I'm not going to smear the soil or damage my workmanship."
The ability to work in all conditions is more pressing than most, as Mr Watkin has used Mitas branded tires on many international fields. "They've been all over Europe, from France and Germany, across Eastern Europe and up into the Nordic countries. While I wasn't able to ship my own tractor over to Canada or Australia, Mitas supported me with both of those trips. This year, the AC85s will be put to the test in Russia," he explains.
Ploughing across the world means that the tires need to handle a range of conditions. It might be dry, like in the picture above, or sodden like the 2019 British Championships.
Mitas tires on Mr Watkin's New Holland TS100A
The Mitas tires have also been fitted to his New Holland TS100A, which is used for general work around Mr Watkin's 150 acre beef and arable farm, near Newtown, Montgomeryshire, which is farmed in partnership with his son, Evan Jr. "The larger lug is excellent on the undulating terrain and means I can continue operating even when conditions aren't great," he says.
Hard wearing. Mitas tires on Mr Watkin's New Holland TS100A have seen through 5000 hours and he's hoping to get another 3000 hours out of them.
More impressive is the lifespan of the Mitas tires. The New Holland has done 5000 hours since being shod with Mitas rubber and the tires are less than half worn. "It's excellent value for money, especially when tires can be such a significant expense," Mr Watkin explains.

Mitas durable tires
This is not just wear from fieldwork either. Mr Watkin offers contracting work within a 20 mile radius of the farm, so the tractor can spend a lot of time on the road. The majority of his work is ploughing and cultivating, so the fieldwork can be just as testing on the rubber. "A lot of the land around me is heavy clay, so when it's wet I need the traction, but when it's dry I need a tire that is hard wearing and isn't going to let me down," he notes.
He also singles out the back-up and expert advice from Malcolm Smith, sales manager for Mitas, who has worked closely with Mr Watkin to get the right tires for the conditions. "The back-up and support has always been brilliant," he says. "I've had two flats since using Mitas; one was the bead slipping off the rim, so I simply had the rim cleaned and the tire put back on. The second turned out to be the valve. In both cases it wasn't the Mitas tires that had failed, but they were quick to act to get me up and running again."
He has also specified Mitas on the rear axle of his Ford 555 backhoe digger, knowing that the hard wearing tread pattern will be able to handle both in-field and yard work – as well as the pressures and strains of shifting heavy material. "When anyone I know is in the market for tires, I always recommend Mitas. They are a great brand available at a respectable price and whenever I need new tires, I always choose them." Mr Watkin explains.
Mitas tires are recommended by dealers and their customers
Farmers Cooperative is one of the Mitas' dealers in North America. Their tire centers service a wide range of vehicles, most commonly agricultural equipment throughout Nebraska and Kansas. They carry a wide range of Mitas agricultural tires. Farmers Cooperative Tire Centers replace and fix tractor tires when and where you need on or off the field.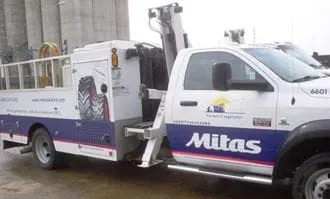 About Farmers Cooperative
Farmers Cooperative has a long history dating back to 1903. Since then lot of changes in growth with mergers and acquisitions happened. In June 2002, they adopted the name "Farmers Cooperative" and have continued to grow to meet the needs of farm producers. Today, they have over 60 locations that spread throughout southeast Nebraska and northeast Kansas with the main focus on grain, agronomy, energy, feed, lubricants, and tires.
Watch this video to see why American farmers count on Mitas tires from Nebraska Tire as "Quitting is never an option." Click here to shop online and for more information on Mitas tires.
About Otto Farms
Dean Otto from Otto Farms, Inc. in Adams, Nebraska is one of Farmers Cooperative's customers. Dean has been farming with his family since 1988. Otto Farms deliver high-quality food to America and beyond. The team at Otto Farms constantly monitors farming practices and improves where needed to preserve the quality of planting and harvesting. Dean Otto has Mitas tires fitted on his tractors, combines and sprayers.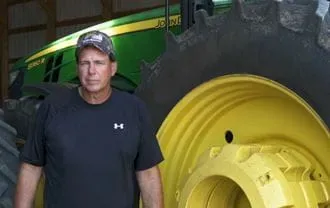 Mitas is the trusted brand Dean Otto trusts Mitas SFT tires. Watch this video as Dean stated, "I chose Mitas tires for the price, quality, and the way they stand behind their tires if there's a problem with them."
Click here to download Mitas Agricultural Tires catalog and more.
Tire World offers Mitas tires exclusively to their customers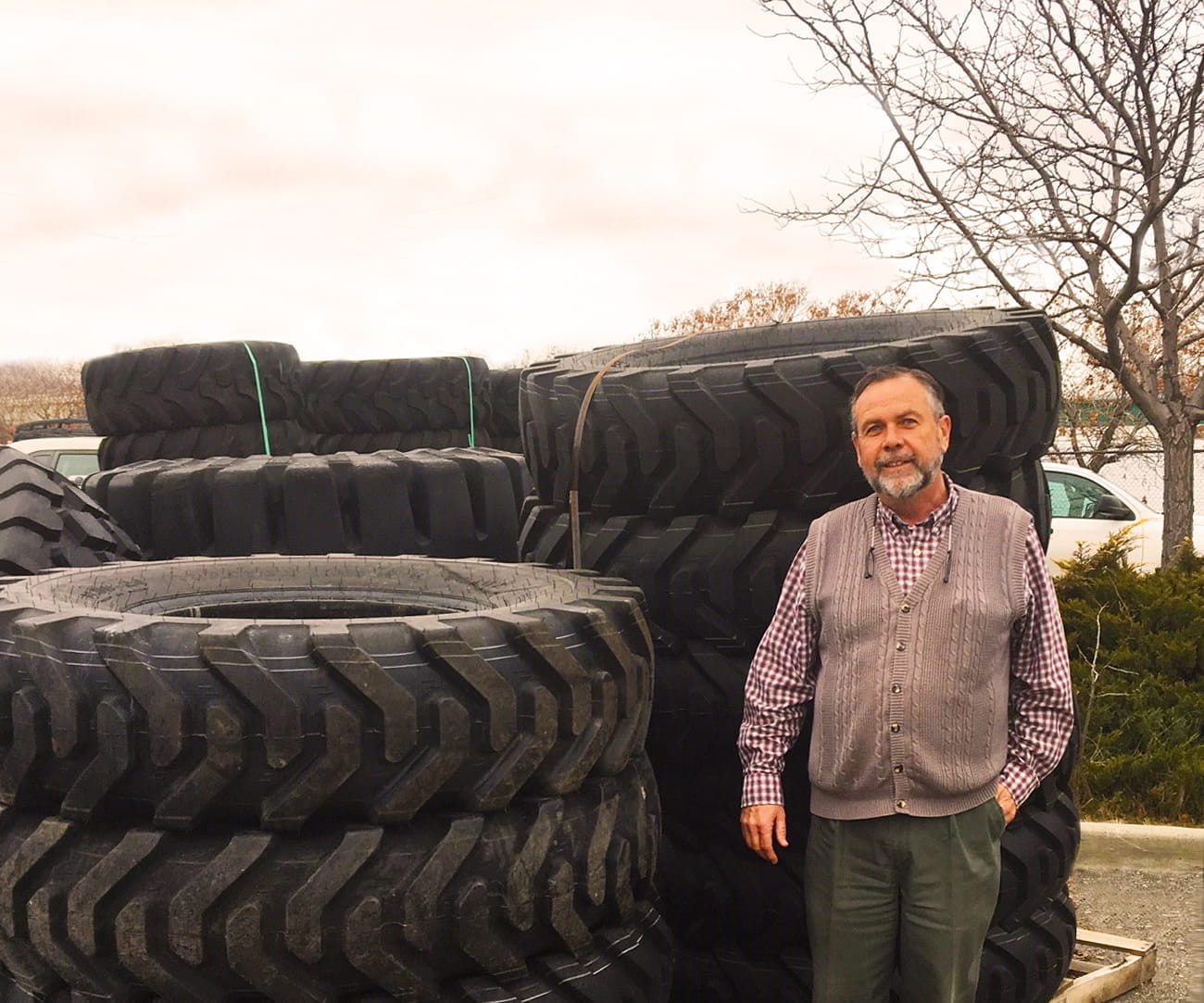 Tire World Truck Center was established in Salt Lake City in 1967 and has been locally owned and operated for over 50 years. They have built and maintained a loyal customer base through building strong business relationships. Tire World's philosophy is to act as a partner with our customers and assist them in being successful by minimizing their tire and service expenses. This is done by finding and providing products that give the best value per mile with trucks, or with construction and material handling products – the lowest cost per hour of service.
In the construction and material handling business – customers need two things from their tires:
Maximum hours of service – lowest cost of service per hour
Durability – resistance to tears, cuts and punctures
Over the years they have assisted to customers in reaching these goals – long life and durability.
This has come as some expense to Tire World. Selling tires that last longer and perform better most often results in fewer tire sales to individual customers. Providing poor value tires that wear out quickly or fail due to a lack of durability usually results in the customer replacing/buying more tires. Good for sales, bad for the customer – but this is not a relationship that both Tire World and the customer equally share in success. And the customer will come to realize this – and look elsewhere to lower their tire expenses. This is precisely why they choose to sell quality products.
Tire World recommends Mitas tires
"When it comes to construction and material handling tires, Tire World Truck Center has chosen to sell exclusively Mitas products in all available sizes. Mitas products are the longest wearing and most robust tires we have found. We provide Mitas to customers with full confidence that we are going to lower their tire and service expenses. We carry the Mitas product for forklifts using pneumatic tires, backhoes, skid loaders, telehandlers, shooting booms, compactors, graders, loaders and other construction equipment. As such, our customer's initial investment in purchasing a quality product is offset, often two or threefold over a single construction season," says Chris Roberts, the Tire World Truck Center manager.

They have several customers that were once buying two or three sets of 12 – 16.5 skid loader tires a season from a competitor – that are using the set we sold them in 2017 in the middle of the construction season. It is the same with 12.00-24 and 14.00-24 telehandler tires. These tires last longer and are more durable – more chip, cut, tear and puncture resistant.
"For our customers that install poly-fill flat proofing material in their telehandler tires and skid loader tires, they are experiencing three times the tread life over other manufactured products. This represents a massive savings – purchasing fewer tires AND most impactful to the bottom line- purchasing less quantities of expensive poly-fill.
Mitas is quite simply the best and most cost-effective product we have found," says Chris.

Chris Roberts – Manager – Tire World Truck Tire Center