Prague, April 26, 2022 - Our offering of Mitas construction and material handling tires includes a series of remarkable tires that boast many extreme parameters. Here are the highlights:
Who's the strongest?

Among Mitas tires for construction machinery, the uncontested load capacity champion is the 26.5-25 32PR EM-60 designed primarily for heavy construction machines. At a speed of 10 km/h, its load capacity is an impressive 17,000 kg, which increases when stationary to a full 27,200 kg. This parameter is important for various types of loaders and other earth-moving machines used to handle construction materials. The EM-60 tires were developed precisely for such heavy construction and other machinery working in combined modes and are characterized by their excellent self-cleaning ability. In terms of load capacity, this design even surpasses radial tires for mobile cranes where load capacity is the key parameter.
Who's the fastest?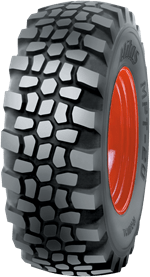 Although most construction and material handling machines aren't built primarily for speed, and they're not going out on a race circuit anytime soon, this product group still includes some fast tires. These are labeled MPT, or multipurpose tires. The 335/80R20 and 365/80R20 MPT-20 boast a top speed of 110 km/h. And they truly take advantage of this rating when used for municipal, maintenance and other special vehicles designed for both on-road and off-road application. Their universal and very durable tread pattern combined with their radial construction make them predestined for this purpose.
If you're wondering which tires are the largest, read on in the next installment of this text.