Thessaloniki, October 17 - Mitas will present its agricultural and industrial tires with its regional distributor DEMETER S.A. at Agrotica 2022, the largest trade fair for agricultural machinery, equipment, and supplies in the Balkans and the southeastern Mediterranean area. This will take place on Oct. 20-23 in Thessaloniki, Greece. Come to see Mitas tires at stand 03 in the open-air area 03!
Visitors to the Agrotica will see 11 Mitas tires, ranging from radial tractor tires to harvester radial and industrial tires. Highlighted products on display will include three radial tractor tires: the AC 65, AC 70 T, AC 85, and the AC 70 N as a representative of radial harvester tires.

Are you wondering how the tires look like mounted on the tractor? No problem, there will be two tractors fitted with Mitas radial tires at the Mitas stand. The first will be a Zetor tractor on AC 85 tires from the largest Mitas tractor tire product range. The AC 85 are durable radial tires with balanced characteristics and long lifespans for a wide range of on- and off-road applications. Another showpiece will be a Lamborghini tractor equipped with AC 70 T tires which are the best choice for modern high-horsepower tractors when high traction is needed.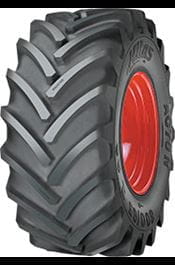 Mitas AC 70 N tires are designed for the driven wheels of today's advanced harvesters. They are very gentle to the ground thanks to their wide footprint that ensures even distribution of ground pressure. In addition to agricultural tires, three samples of industrial & material handling tires will be on display. These will be the TI-06 for industrial tractors, the FL-08 for forklifts, and the SK-02 for skid steer loaders.

"For Mitas, Agrotica is the key trade show in the southern Europe region, as Mitas agricultural tires maintain a very good position in the region's countries. We have recently seen an increase in customer interest in AC 85 tractor tires in particular," says Daniela Gambatesa, Marketing Manager for the EMEA region at Trelleborg Wheel Systems.

The 29th Agrotica will take place at the International Exhibition and Conference Centre, will offer products from more than 2,000 exhibitors over an area of 60,000 m2 and is expecting 150,000 visitors. It is the reference point of the agricultural sector for the coming year and a key networking place for exhibitors.
Come to Agrotica 2022 to see the latest Mitas agricultural and industrial tires. We look forward to meeting you at the Mitas booth #03 in the open-air area 03!

Follow us on Mitas Agri Facebook to see images and up-to-date info from the event.