Do you know the power output of Ricky Long's Lucas Oil Bullseye modified tractor for tractor pulling races? And which tires can efficiently transfer this enormous power to the ground? You can find the answers to both at this year's National Farm Machinery Show taking place February 16-19 in Louisville, Kentucky, USA.
The Mitas Booth #5039 in the South Wing will be showcasing the latest
VF HC 1000
tire with the special
NRO
(Narrow Rim Option) construction designed for the next generation of self-propelled sprayers, along with the Mitas PowerPull 01 tires mounted on the above-mentioned competition tractor.
Try the competition special…
During the show, visitors can meet members of
Ricky Long's Lucas Oil Bullseye team at the Mitas booth
, get an autograph from the team's pilot, sit in his driver's seat, and of course take pictures with this exceptional vehicle. The tractor is fitted with Mitas
30.5L-32 PowerPull 01
tires designed especially for tough racing conditions. A tractor pulling competition is a traditional part of the National Farm Machinery Show, so you will have a unique opportunity to see the Mitas tires being used right on the course. More than 70,000 fans will be filling Freedom Hall to watch the nation's best pilots battle for the grand champion title.
…and see tires made for the most powerful field machines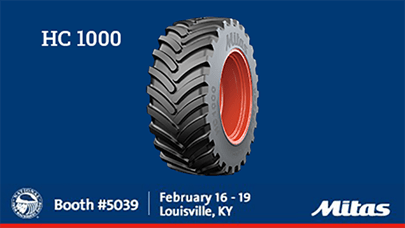 The new VF HC 1000 NRO radial tire is the first of its kind on the market in terms of both size and specs. The VF HC 1000 NRO tires are available in two sizes – the VF 650/65R38 and VF 750/60R46. The optimal tread pattern design increases the tire's durability even at high speeds, meaning less time spent on the road. It can also run at lower inflation pressures, reducing soil compaction even under heavy loads.
About the NFMS
The National Farm Machinery Show is the largest indoor farm show in the USA. This year, it will cover eight interconnected exhibit halls totaling more than 1.2 million square meters of indoor exhibit space, and contain more than 900 exhibitor booths. Visitors can explore the latest farming trends, technology and tools offered by the industry's best and most trusted brands.
About Mitas
The Mitas brand has a long tradition of high-quality and reliable tires for tractors, harvesting machines and more. Mitas opened a production plant in Charles City, Iowa, in 2012.

Come to the National Farm Machinery Show to see the latest Mitas agricultural tires and tractor puller. We look forward to meeting you at the Mitas booth #5039!


Follow us on Mitas Agri Facebook to see images and up-to-date info from the event.