Prague, July 28, 2022 – Among
Mitas agricultural tires
we find a range of designs whose exceptional dimensions and other properties make them deserving of our attention. In today's article we will take a look at the giants and dwarfs among agricultural tires that are fantastic assistants on both wide fields and small gardens. So, what exactly are we talking about here?
Taller than you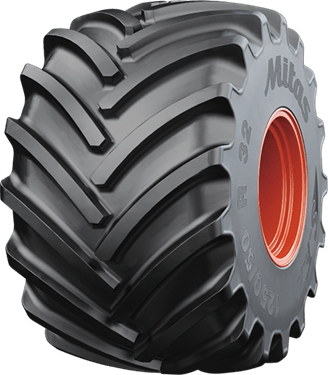 Let's start with the outer dimensions of the tires. Here, the key parameters are the tire width and its outer diameter. If we measure the tires according to their outer diameter, the titleholder would be the 710/75R42 from the SFT (Super Flexion Tire) family that boasts a diameter of 2 171 mm. This is a tire with very flexible sidewalls and a high load capacity that you might meet primarily on modern, high-horsepower tractors and harvesting machinery. And this tire is genuinely hard to miss – at over two meters, it is a lot taller than the average adult.

On the other hand, in terms of width the 1250/50R32 SFT, at over one meter, 1 220 mm to be exact, excels. Width has become very important for modern agricultural tires, as it helps spread the weight of the agricultural machinery and thus reduces the pressure exerted on the soil.

If we combine the two categories, meaning height and width, we get a clear champion – thanks to its outer diameter of 2 150 mm and width of 860 mm, this is the 900/60R42, once again from the SFT tires group. We can thus say that this is the largest Mitas agricultural tire overall.

It is no coincidence that we find the size recordholders among the radial SFT tires. The dimensions of agricultural tires have been generally growing alongside those of the agricultural machines themselves in recent years, and the SFT tires are specially designed for the most modern of them.
Almost pocket-sized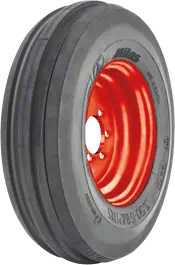 At the opposite end of the Mitas agricultural tire size spectrum we find the 3.50-6 4PR B15. This is a bantam tire with a grooved tread pattern designed for light agricultural machines and hand carts. It is less than ten centimeters wide – a mere 96 mm – and its outer diameter is 343 mm. So it looks a little like a toy tire compared to the previously mentioned "giants". Yet it is definitely not for play, and these dimensions have an inimitable role among agricultural tires. They are irreplaceable for their users, simply because some garden work can still only be done by hand, and small machinery and hand carts significantly aid such activities.
As you can see, the dimensions of the largest and smallest Mitas agricultural tires differ more than tenfold in width and over sixfold in diameter. In short, we can produce tires for all the types of machines that today's farmers and gardeners need! In the next part you will learn which Mitas tires can carry the most, while you might be surprised at how fast agricultural tires can be.