Prague, August 31, 2022 – Have you ever wondered about the heaviest load that Mitas agricultural tires can carry?
Or how fast they can move? You might be surprised by the record-holders in both these "disciplines".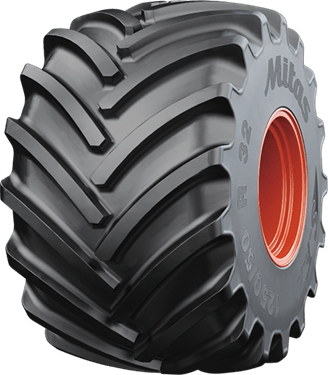 We find the strongest agricultural tire, or rather the tire with the highest load capacity, in the SFT (Super Flexion Tire) range. This should perhaps not be so surprising after all, as this range includes the majority of the largest-sized Mitas agricultural tires. Still, the fact that the 1250/50R32 CHO 194A8/191A8 can carry over 21 tons is truly impressive. More precisely, its capacity is 21 240 kg in cyclical mode and speeds of up to 10 km/h. These tires are intended for modern harvesting machinery, the weight of which repeatedly changes during operation as the grain storage tank is filled and emptied. They are also suitable for large spreaders and other machines with changing loads. The extremely large volume of air in these tires also ensures maximum soil protection even under high loading.

This same tire is also the heaviest Mitas tire produced, as it weighs almost 600 kg. These tires are clearly not exactly easy to handle, and experienced professionals are needed. On the other hand, the lightest Mitas agricultural tire weighs three quarters of a kilogram. This is the 3.50-8 4PR V-5501 bantam tire intended for light gardening equipment. Yet don't be fooled – even this midget can carry 180 kg!
We can also go fast!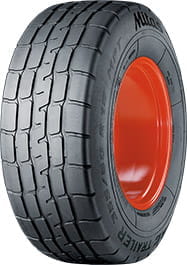 Even though the operating speeds of today's agricultural machines continue to increase, they do not often break speed records. Yet you can still find a Mitas tire whose maximum operating speed is more often seen on car tires. This is the 355/60R18 MPT 142J AR-05, and because it is a tire for modern agricultural trailers intended primarily for use on roads, its maximum speed is 100 km/h. This is a radial tire that offers low rolling resistance thanks to its special tread pattern and rounded shoulders. In addition, its all-steel construction protects it from damage.

So did you have any idea about the performance offered by Mitas agricultural tires? This is an extensive portfolio of tires that enable users to take advantage of all the benefits offered by modern agricultural machinery. We are also constantly working to offer our customers exactly what they need in their daily work.