Mitas to launch eight new VF tire sizes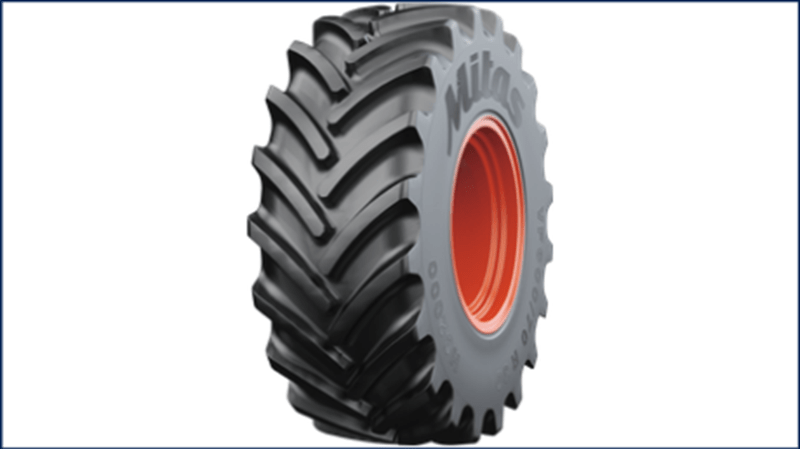 Prague, November 7, 2017 – Mitas, a member of the Trelleborg Group, is to significantly extend its agricultural VF (Very High Flexion) tyre range. The following eight sizes will be launched at Agritechnica 2017 in Hannover, Germany.
VF 420/85R28 HC2000
VF 380/85R34 HC2000
VF 420/85R34 HC2000
VF 580/85R42 CFO HC3000
VF 480/80R46 HC2000
VF 380/105R50 HC1000
VF 480/80R50 HC1000
VF 380/105R54 HC1000
The HC1000 tires are designed mainly for sprayers, the HC2000 for high-horsepower tractors, and the HC3000 for combine harvesters.
Due to their construction, VF tires enable 40% more load capacity than standard tractor tires, and their load capacity remains unchanged in usable speed ranges. "This means that farmers do not have to adjust tire pressure according to speed," explains Mitas agricultural tires production manager, Pavel Kott. "The larger footprint of the VF tires leads to less soil compaction, improving ground protection. It also ensures better power transmission and limits slippage."
The VF 580/85R42 HC3000 183B tire will be offered in a reinforced CFO (Cyclic Field Operation) version allowing higher load capacity during harvest operations compared to standard construction tires. The tire has a "B" speed category, allowing speeds of up to 50 km/h under a load of 8750 kg and a nominal inflation pressure of 2.8 bars.
"The VF tires are the backbone of our agricultural tires range and feature a special construction that provides users with significant benefits. Hence we are going to continue to develop this product line, and will launch a further three new VF sizes in 2018," Pavel Kott added.
Mitas will be displaying the VF 380/105R54 168B HC2000 TL and VF 710/70R42 CFO 190B HC3000 TL tires at the Agritechnica fair (stand B04, hall 20).