Mitas presentará cuatro neumáticos nuevos en FIMA 2020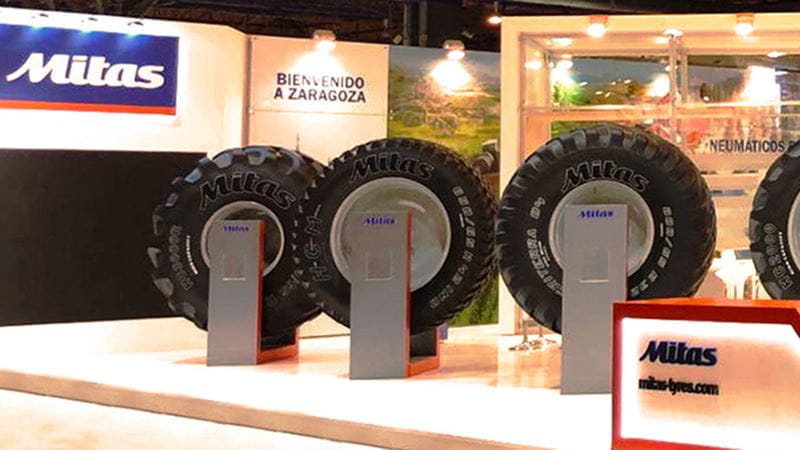 Praga, febrero de 2020 - La marca Mitas, como parte del Grupo Trelleborg, presentará sus últimos neumáticos agrícolas en FIMA 2020 en Zaragoza, España. Mitas presentará dos neumáticos agrícolas completamente nuevos y dos medidas nuevas, ampliando así su gama neumáticos agrícolas.
The first of the new tyres is VF 1000/65R32 CFO 200A8 HC3000R TL, which belongs to the Mitas VF (Very High Flexion) range. Thanks to their construction, VF tyres have almost 40% more load capacity than standard tractor tyres, and this remains unchanged over usable speed ranges.

"The ability to absorb the same load capacity over all of a tractor's usable speed, means that farmers do not have to adjust tyre pressure according to speed," explains Pavel Kott, Mitas agricultural tyres Product Manager. "The larger footprint of the VF tyres also leads to less soil compaction, improving ground protection, while ensuring better power transmission and limited slippage."

The VF 1000/65R32 CFO 200A8 HC3000R TL has a new tread pattern HC3000R (rounded) that is based on the widely proved HC3000 tread pattern and is suitable for combine harvesters. The new tread pattern features a rounded shoulder that ensures even more gentle ground handling, especially when turning in the field or on grassland. The tyre will be offered in a reinforced Cyclic Field Operation (CFO) version, allowing higher load capacity during harvest operations compared to tyres with a standard construction.

The second completely new tyre being introduced is 800/65R32 IMP 185D AGRITERRA 04 TL and it extends the Mitas AGRITERRA radial tyre range. This tyre has a high load capacity and is designed for non-driven wheels for a wide range of agricultural vehicles, such as flat trucks, fast-moving agricultural trailers and tank containers.
The new AGRITERRA 04 tread pattern is designed primarily for work in the field and on grassland, and offers superior self-cleaning properties and traction characteristics, together with gentle ground handling. Thanks to its rounded tread shoulder and extended footprint, the AGRITERRA 04 tyres are very gentle on grassland and feature low noise emissions, rolling resistance and reduced fuel consumption.

At the FIMA 2020 show are also presented the Mitas 650/65R42 IND 176A8/171D HCM TL and the Mitas VF 480/70R38 172D HC2000 TL tyres.
The Mitas 650/65R42 IND 176A8/171D HCM TL tyre was released in 2019. The HCM range of tyres are offered in 12 sizes from 18 to 42 inches. Designed for use in all seasons, these tyres are particularly suitable for municipal and road maintenance tractors, telescopic handlers and loaders.
High durability is their outstanding feature thanks to their steel-belted radial construction, the unique tread pattern in the central part of the tyre and exceptional traction characteristics due to more edges on the lugs. In addition, a different lug width on the shoulder ensures better traction in deeper terrain. The HCM tyres offer excellent self-cleaning properties with low noise emissions and vibration thanks to the different length of pitches and their alignment along the circumference.

The new VF 480/70R38 172D HC2000 TL is a part of Mitas HC2000 product line designed for high-horsepower tractors. Mitas currently offers 15 sizes of HC2000 tyres and this range was significantly extended in recent years with 8 new sizes being released from 2017 to 2020. Thanks to the VF (Very High Flexion) technology, these tyres can be used with constant air inflation pressure at any speed.
"These Mitas tyres at the FIMA 2020 show are examples of the latest agricultural tyre technology. Mitas tyres ensure reliability of farming operations, provide efficiency in the field and guarantee excellent product quality during the entire life of the tyre," said, Emil Houška, Mitas Marketing Senior Manager.
Mitas tyres are present at the FIMA 2020 show from 25 to 29 February at stand D/7 in hall 7.